About Alisha and Just Add Rhythm: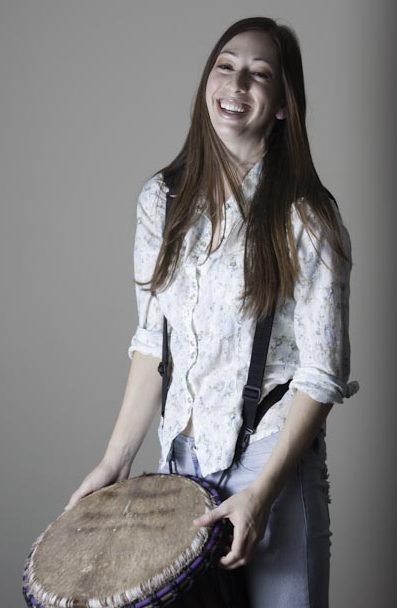 Alisha is a drum circle facilitator, and her job is to bring people together through drumming.  She is dedicated to utilizing the power of music and movement to help others discover their true healthy selves – and to have lots of fun and be a little playful along the way.
In 2003, Alisha picked up her first drum.  Primarily being a singer at the time, she thought it would add a little groove to her vocal abilities.
Plus, she really loved the music from the Lion King, and had worn out the CD ages ago from overplay.  Learning African music was a challenge like no other.  At school, Alisha joined the Berklee African Drum and Dance Ensemble, and her fascination with rhythm escalated.  Her rhythm journey led her on a cultural trip to Ghana, West Africa, and then on to earn an M.A. in Ethnomusicology from Tufts University, during which time she conducted field research in Senegal and Boston.
Alisha found herself performing in various student and professional ensembles – and felt a flutter of excitement every time she took the stage.  In 2012, it led her to found Just Add Rhythm LLC, with the vision of seeing more people drumming for good – for their personal joy and wellness, and for igniting positive change in their communities.   Having fun is serious business, and since 2004 Alisha has worked with children, teens, families, adults, and seniors, introducing them to the joy of music and the profoundly positive effect it can have on each and every one of us.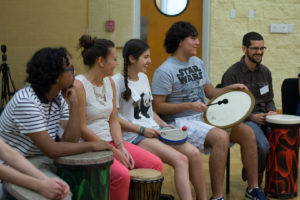 In 2016, Just Add Rhythm expanded its reach, and now serves both South Florida and North Florida communities.  Alisha is a member of the Drum Circle Facilitators Guild, a Senior Accredited DRUMBEAT and a certified Remo Health RHYTHMS® facilitator, and a licensed 40-hour Childcare professional with the Florida Department of Children and Families. She currently works with organizations throughout Northeast and South Florida to provide fun and engaging drumming opportunities for all.