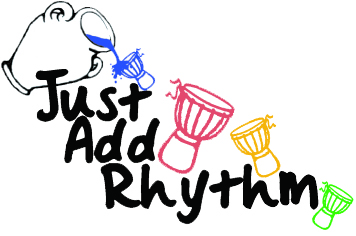 Just Add Rhythm's vision is to see more people drumming for good – for their personal joy and wellness, and for igniting positive change in their communities.
Our mission is to provide top-quality interactive rhythm programs for empowering and purposeful experiences – not only for use right now, but for lifelong wellness.  We work with all ages and backgrounds of people in order to introduce the joys and benefits of rhythm and music making to them.
What kind of benefits come from a group music making/drumming experience?
Lots! Participating in music making as a group can: provide stress relief and relaxation; promote health and wellness; encourage community/team building, socialization, and problem solving; improve focus and concentration; boost creativity; and build self-esteem and self-confidence. The benefits go on and on!