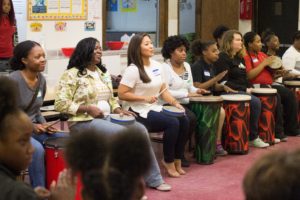 Subscribe to our brand-new newsletter!  You'll receive monthly updates on our upcoming events, wellness tips, PLUS subscriber promotions!  Sign up here!
New Facebook group for Jacksonville!  If you're located in NE Florida, join our new FB group, Jax Drumming for Wellness, to stay updated on rhythm-related events happening around town.  Absolutely NO musical or rhythm experience is required to join, attend, and have fun!
Joyful Rhythms workshop for adults!  We'll be scheduling wellness workshops for both recreational and workplace wellness in the next several months.  Check back here for updates, or follow us on Facebook or sign up for our newsletter.
Are you curious to see what a program looks like in action?  Check out our new Youtube channel for video clips of team-building programs, summer camps and more!  We'll be adding more videos every month, so be sure to subscribe!
We've gone corporate!  Please visit our website for corporate team-building events here.  You'll find information on icebreakers, team-building, conference openers and more.  Book an unforgettable event for your company or organization today!
We collaborate with non-profit organizations looking to write grants! If you are considering adding a cultural arts and/or wellness component into a funding opportunity for your organization, we'd love to work with you.  We can supply plenty of essential copy for grant applications, including program descriptions, benefits, evidence-based protocols, and relevant research.  Rhythm can help build communities, encourage physical health, offer creative educational opportunities, and so much more!
Admit it – you're itching to join in the fun!  Are you a bit curious to see what all the fuss is about?  Contact us today!