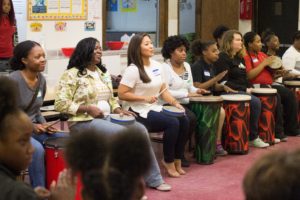 Subscribe to our brand-new newsletter!  You'll receive monthly updates on our upcoming events, wellness tips, PLUS subscriber promotions!  Sign up here!
New Facebook group for Jacksonville!  If you're located in NE Florida, join our new FB group, Jax Drumming for Wellness, to stay updated on rhythm-related events happening around town.  Absolutely NO musical or rhythm experience is required to join, attend, and have fun!
Joyful Rhythms workshop for adults!  Join us Wednesday, August 16th, 7-8 pm in Baymeadows for a fun & stress-reducing workshop on the benefits of rhythm.  No experience necessary!  Click here for more details.
Are you curious to see what a program looks like in action?  Check out our new Youtube channel for video clips of team-building programs, summer camps and more!  We'll be adding more videos in the next few weeks, so be sure to subscribe!
Summer booking is still available!  We've got summer camp programs scheduled for South and North Florida, and we still have room for your camp!  Want to book us for some drumming fun?  Contact us!
Summer Fun at the Library!  We just wrapped up some amazingly fun drumming programs at North and South FL public libraries.  If you missed it, contact us to find out how we can bring the drums and fun to your next event!
We'll be at the following camps in South Florida this summer:
City of Pembroke Pines
City of Miramar
The Urban League of Broward County
Center for Hearing and Communication
Adolph and Rose Levis Jewish Community Center
Temple Beth Torah
B'nai Aviv of Weston
David Posnack Jewish Community Center
Camp Hope in Lauderhill
Mt. Zion camp in Pompano
New Shiloh Church camp in Miami
Broward Children's Center in Dania
We'll be at the following camps in Jacksonville this summer:
Jacksonville Zoo
Discovery Tree in Oakleaf
Boys & Girls Clubs of NE Florida Southwind Villas site
We hope to see you at one of these exciting camps for some drum fun!
We've moved!  Just Add Rhythm is now based out of Jacksonville, FL but we still happily serve the South Florida community as we did before.  Contact us if you have a program or organization where you would like to bring some rhythm fun – whether it's in South Florida, Northeast Florida, or anywhere else!
We've gone corporate!  Please visit our website for corporate team-building events here.  You'll find information on icebreakers, team-building, conference openers and more.  Book an unforgettable event for your company or organization today!
We collaborate with non-profit organizations looking to write grants! If you are considering adding a cultural arts and/or wellness component into a funding opportunity for your organization, we'd love to work with you.  We can supply plenty of essential copy for grant applications, including program descriptions, benefits, evidence-based protocols, and relevant research.  Rhythm can help build communities, encourage physical health, offer creative educational opportunities, and so much more!
Admit it – you're itching to join in the fun!  Are you a bit curious to see what all the fuss is about?  Contact us today!