Join us for a 4-week mini series of workshops on rhythm, wellness, and connection!
What

:  Discovering Your Inner Rhythm – Evidence-based practices using rhythm and music for a more joyful life
Where

:  Jacksonville Business Connections event room, 1515 county rd 210 suite 102, Saint Augustine, Florida 32259
When

:  Thursdays, March 8th, 15th, 22nd, and 29th, 2018, 6-7 pm
Detailed description

:
Rhythm is innate in all of us – in our heartbeat, our breath, the ebb and flow of our energy throughout the day.  When we harness the power of this rhythm using proven techniques, we have the ability to find more clarity, purpose and intent in our daily lives.  This is true in both our work and our personal lives.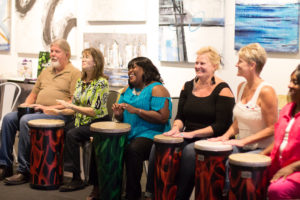 Join us for a 4-week mini series of one-hour workshops that will guide you through several evidence-based techniques designed to help you:
manage and reduce your stress
promote mindfulness
take small, gradual steps toward living a more joyful life every day
Our Focus
We'll use Christine Stevens' 2012 book Music Medicine – The Science and Spirit of Healing Yourself with Sound as our guide.  Each week, we'll focus on one of 4 principles of music, and how it relates to our daily lives:  rhythm, melody, harmony, and silence. We'll weave these activities into the Remo HealthRHYTHMS® evidence-based protocol for group empowerment drumming.
Absolutely NO musical experience is necessary in order to participate and benefit from these workshops!  (In fact, most people who participate in our workshops have little or no musical background)
What you'll walk away with after our 4 sessions:
Simple tools for using rhythm and music to help you relax and find focus (things you can do on your own, with or without a drum)
A basic knowledge of the research on rhythm, music, and the brain – and how this research is being implemented in companies worldwide
A deeper and more meaningful connection to yourself and your vision for the year
An unforgettable experience with a community that is inspired and motivated (a chance to network and make new professional and personal connections)
So if you're curious about drumming, want to participate in a meaningful experience that will help you develop both personally and professionally, or simply want to step out of your box and experience something new, this course is for you!
All course registrants will be entered to win one of two copies of Christine Stevens' Music Medicine! 
CLICK HERE TO REGISTER ON EVENTBRITE!