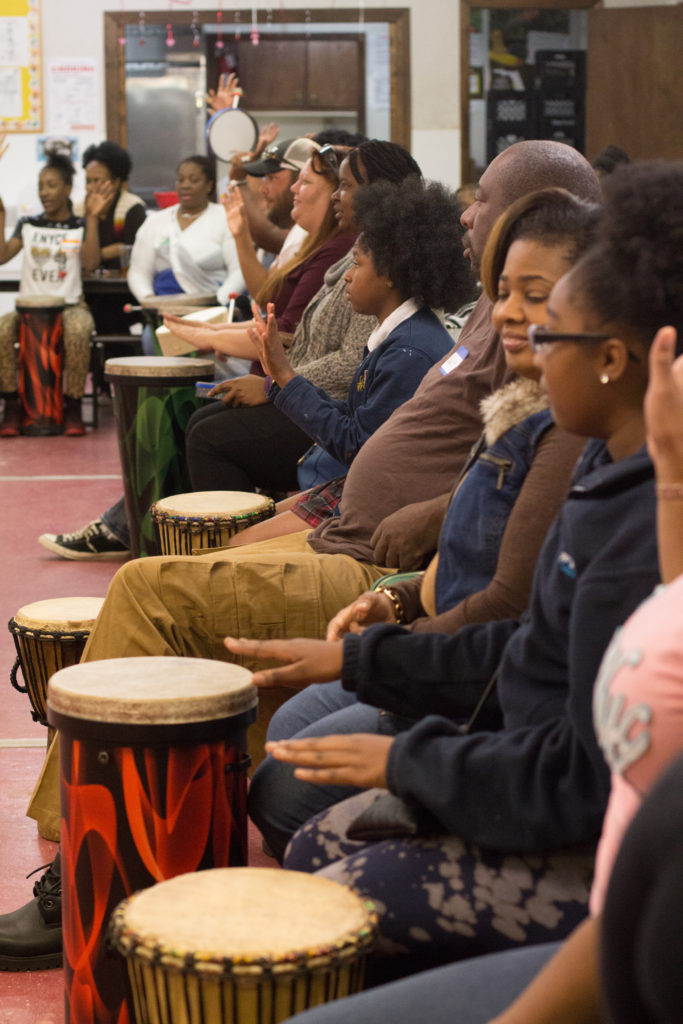 Drumming at the Jax Makerspace this summer!
Families, join us for a fun and interactive drumming program at the Jax Makerspace at the downtown library in July.  This workshop is for children and youth ages 5 years old and up with their adult family members (parents, grandparents, guardians).
We'll provide all the drums and instruments – you come ready to make some cool beats!
To find out more info, check out the JMS Facebook event page here.
Stay tuned here for more family fun events being added each month!
Where in the world is Just Add Rhythm? (summer edition!)
This summer, find us at a camp near you!  We'll be drumming up lots of fun at summer camps and libraries in Northeast and South Florida.  Check below for our lineup!
Northeast Florida & South Georgia
Libraries
Tuesday 6/12, Murray Hill branch (Jax), 3-4 pm
Wednesday 6/13, Micanopy branch (Gainesville), 3-4 pm
Thursday 6/14, Southeast Regional branch (Jax), 2-3 pm
Tuesday 6/19, San Marco branch (Jax), 2:30-3:30 pm
Wednesday 6/20, Middleburg branch (Clay county), 2:30-3:30 pm
Tuesday 6/26, Marshes of Glynn branch (S. Georgia), 10:30 am & 1:30 pm
Tuesday 7/10, Highlands Regional branch (Jax), 3-4 pm
Thursday 7/12, Bunnell branch (Palm Coast), 10-11 am
Monday 7/16, Bradham Brooks branch (Jax), 11 am-noon
Wednesday 7/18, Coffee branch 11 am & Willacoochee branch 2:30 pm (S. Georgia)
Thursday 7/19, Westbrook branch (Jax), 3-4 pm
Tuesday 7/24, Millhopper branch (Gainesville), 2:30-3:30 pm
Saturday 8/4, Putnam branch (Putnam county), 10-11 am
Partnering camp programs
Communities in Schools of Jacksonville (5 sites)
Dayspring Academy Jacksonville
Boys & Girls Clubs of Northeast Florida – John Love & Arlington Elementary School sites
Discovery Tree Academy in Middleburg
Sanctuary on 8th Street
South Florida
Libraries
Saturday, 6/9, Miami Kendall Library, 11 am-12 noon
Saturday, 6/9, Miami Homestead Library, 2-3 pm
Tuesday, 6/19, Miami Bay Harbor Library, 2-3 pm
Tuesday 6/26, Plantation Library (Broward), 6:30-7:30 pm
Saturday 7/21, South Regional branch (Pembroke Pines), 2-4 pm
Saturday 7/21, South Miami branch (Miami) 2-3 pm
Thursday 7/26, Opa-Locka branch (Miami) 11 am-12 noon
Wednesday 8/1, Miami Beach Regional branch, 4-5 pm
Partnering camp programs
Boys & Girls Clubs of Broward County
JAFCO (Broward)
David Posnack Jewish Community Center (Cooper City)
City of Miramar
City of Pembroke Pines
Miami Beach Jewish Community Center
Smith Community Mental Health Center
Broward Children's Centers in Pompano and Dania
After-School Program of Broward