For all ages (including adults), we offer single sessions, mini or year-long residencies, special event workshops, and more- just ask!
Educational Program Offerings (click on one to read more)
What can you expect from a Workshop?
At any workshop, you can expect to see lots of smiles and laughter. Some students go into the workshop feeling nervous, but soon they're laughing and playing with the group. If you have a heartbeat, you have rhythm – and we'll have fun discovering it!
School can be stressful, but drumming can reduce stress! Do you remember the old expression 'when you get angry, punch a pillow?' Well, it is a great feeling to bang your cares away on a drum. After a drumming session, many students share that they are feeling happy, excited, more energetic, and less anxious than when they came in. Drumming can also help boost immunity, and it's a workout! Reduced stress and better physical health can help keep students focused and interested in their academics.
Better teamwork/socialization skills
Our drumming sessions are designed to maximize social interaction and teamwork. The goal of this is to introduce lifelong skills that will not only be beneficial to students now, but will also be crucial for them as adults. Our icebreakers and rhythm games encourage teamwork – and kids are gaining valuable skills that will help them excel academically, socially, and emotionally.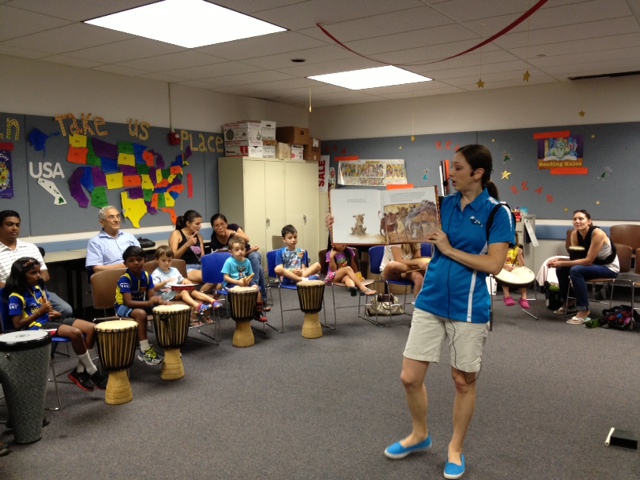 Both kids and adults engaged in Jungle Drums Program at Davie Cooper City Library.
Photo Credit: Viviangeli Colondres, Librarian – Cooper City Library
Additional Educational Programs
Our drumming programs aren't just for kids in school. We also offer teacher training workshops that introduce techniques for focus and teamwork that extend to the classroom, with the added bonus of simple relaxation exercises.
Just Add Rhythm is also a Broward County Arts & Education Approved Artist, which means that any county funded organizations can hire us to fulfill any of its arts in education budget allocations. Please visit the directory here.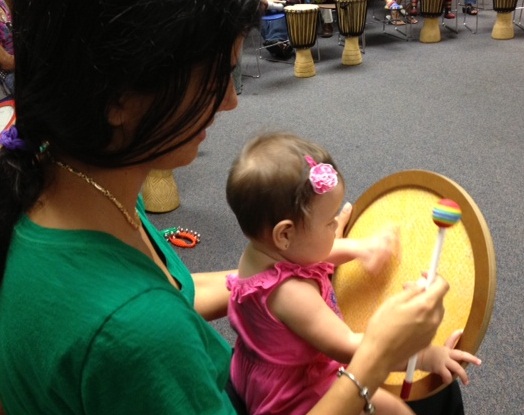 We also offer library programs at several of the Broward County Public Libraries, as well as in Palm Beach and Miami-Dade.
Contact us today to book an educational event for your group that you can't find in a textbook!
Call Alisha Ross at: (954) 399 – 7648