Who are we?  Just Add Rhythm brings drumming to the community in fun, energetic and wild ways.  We're a mobile business in Northeast and South FL, serving the five counties of the First Coast, and the South Florida tri-county area of Broward/Dade/Palm Beach and beyond.  We bring our drums to your event so you can have maximum fun with minimum logistics.
Why drums? If you've ever experienced a drum circle, then you understand why we're committed to bringing drumming to everyone.  If you're new to the world of drumming, check us out!  Drumming can reduce stress, encourage teamwork, enhance self-confidence – and it's FUN!
Who do we work with?  Drumming is for everyone!  If you have a heartbeat, you have rhythm.  We drum at corporate events, schools, senior centers, faith-based centers, libraries, hospitals, women's events, wellness retreats – you name it.  It's not a performance, but a hands-on experience for all.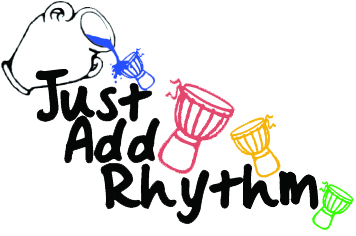 A bit about our logo…we want to convey to the world that getting more out of your life can be as simple as shifting one thing.  By just adding rhythm – into your life, your organization, or your event – you could experience significant improvements in your physical, mental and emotional health.  One simple shift can make a world of difference.  We'd like to thank the talented Sara Wozniak for working with us to create a logo that shows just what we are about – and that's empowering YOU!
Photo credit:  Steve Ramcharitar