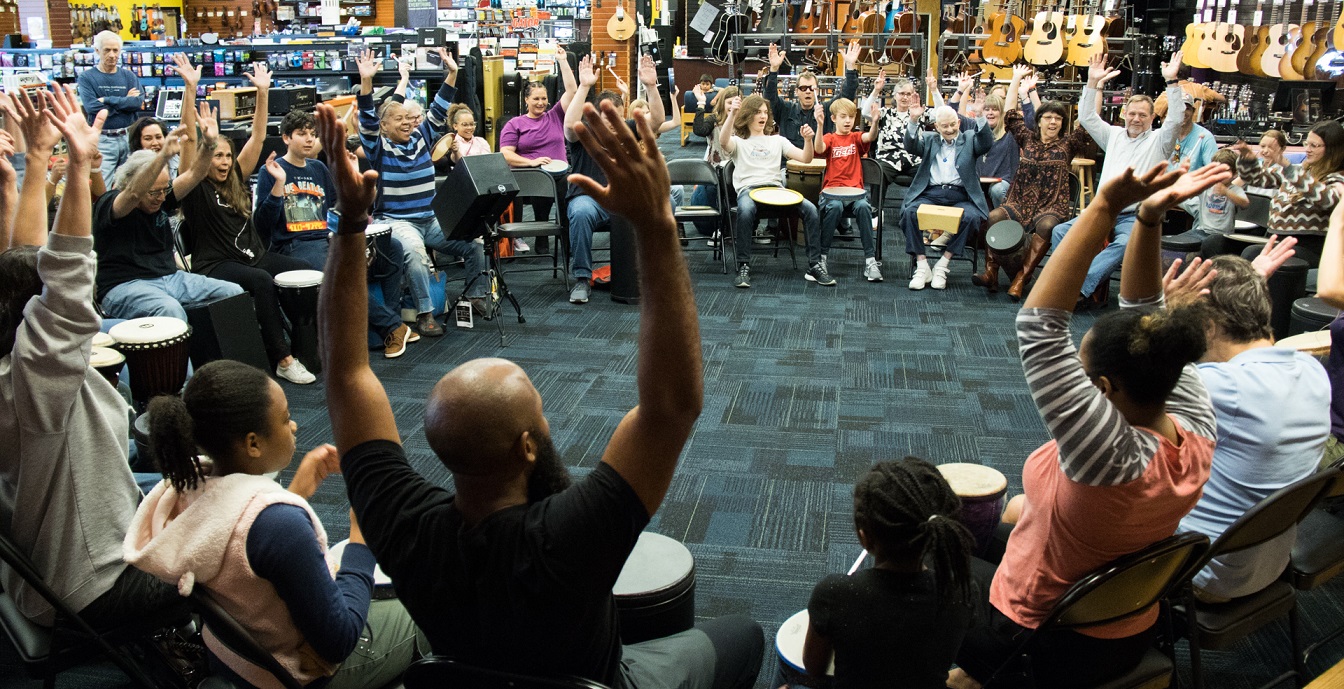 Ready to get back in the office, back to school, and back to life?
Read our COVID health and safety protocols

here

(revised 7/9/2020)!
Virtual rhythm experiences during social distancing
With fall fast approaching and social distancing restrictions still in place, we want to offer your organization some ways to stay connected and engaged during this time.
If you're looking for a fun and educational online experience for your school, after-school program, library, or other organization, check out our options below!
Sounds of Success – a Zoom LIVE interactive rhythm and wellness experience
Let's go on a sonic adventure and experience rhythm in a whole new way!  For this session, we invite you to find something around your house you can create rhythms with – a salt or pepper shaker, a Tupperware container, pencils or markers, pots/pans, etc.  Use your imagination – what can you turn into a drum? Each virtual session is interactive and experiential, and includes a jam session, collaboration activities, relaxation exercises, and more. Drum with us and discover your best self!
Sessions are 40 minutes in length & can be tailored to ages K-5th, middle school, high school, or adult.
Takeaways:  meaningful connection with others, reinforcing social skills, immune boost, reduced stress/anxiety, stress management tools
Pricing varies based on number and age range of participants.  Contact us and let us know what you need!
Best Beats – Drumming fun and social-emotional skills (YouTube prerecorded sessions)
Choose one or all four sessions!  Each session will use fun rhythmic activities to focus on a specific social-emotional skill – compassion, mindfulness, teamwork, and community.  Just as our live experience does, we'll show you how to use "found sounds" around your house to create a drum or percussion instrument.  Each session will include a warm-up, wellness exercise, virtual jam session where we create our own beats, and a rhythmic call to action based on the session's theme.
Sessions are 20-30 minutes in length & are appropriate for ages K-5th grade.
Takeaways:  reinforcing social-emotional concepts, awareness of rhythmic and musical concepts, immune boost, reduced stress/anxiety, stress management tools
Investment:  $150 for license to access a single session, $500 for access to all 4
Rhythm & Relax - virtual drumming for kids
Could your kids use a little extra enrichment & fun activity? Are they bouncing off the walls without a dedicated down time to help them relax and recharge?  Join us for a virtual mini adventure!  Each week, we'll offer your kiddos two LIVE virtual experiences using rhythm, drumming, and meditation. Contact us to learn more!

Coming Soon! A new program offering for companies and universities
We're jazzed to announce a new collaboration with Amy Angelilli and The Adventure Project!  Amy's focus is on creative and collaborative play, just like us!  Her tools of choice are improv and laughter yoga, so we've joined forces to offer a program for corporate clients and college/university clients alike.  Company employees, college students, and staff/faculty are invited to "Drum. Laugh. Play" to bust burnout, reduce stress, and increase engagement in an interactive and FUN environment.  More details below (click on each for expanded description):