River City Live TV Segment
Rance Adams and Mark Payton of River City Live came out to film a team-building and wellness session we did with Humana Go365 employees.  See what a typical corporate drum circle looks like, and find out why Humana brought us in to work with their team.  Check it out HERE!
Buzz TV "5 Minutes With" Segment
Howard Wolpoff of Buzz TV interviewed Alisha on his segment "5 Minutes With" in January 2019 to talk about the importance of rhythm for wellness and community connection.  Check it out HERE!
Florida Times-Union – Words Count
Just Add Rhythm was featured in the 10/18/17 edition of the Florida Times-Union in Christina Swanson's column "Words Count."  Check out the article, titled "Living to the Sound of a Drum," right here!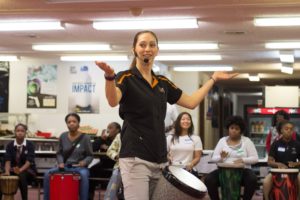 Clay Today – Musician on a Mission
Just Add Rhythm was featured in the 7/6/17 edition of Clay Today about its work in Northeast and South Florida.  Check it out!

Cultural Council of Greater Jacksonville
Just Add Rhythm was featured in the Cultural Council's 10 Questions interview in March 2017.  Check it out!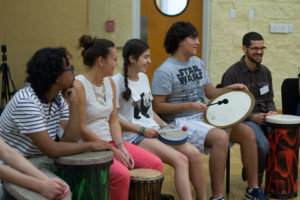 Miami Herald news coverage
We're in the news! This drum circle was part of a series of Just Add Rhythm programs offered at the Palmetto Bay Library branch (Miami-Dade) throughout Summer 2015 for adults and kids.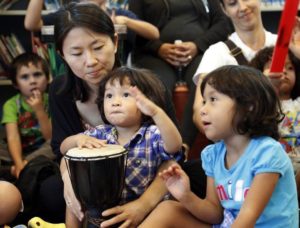 Photo & coverage credit: Miami Herald Staff – Carl Juste
December 2013-January 2014 newsletter!
Check us out in the Hollywood Lakes Civic Association's December 2013-January 2014 newsletter!  This interview tidbit talks about the benefits kids can gain from our upcoming Radical Rhythms Percussion Studio at the Art & Culture Center of Hollywood!
An Interview With Art and Culture Center of Hollywood Radical Rhythms Instructor Alisha Ross
1. At what age did you realize you enjoyed expressing yourself creatively through percussion?   I always was an outgoing child, and I loved putting on makeshift "performances" for my family when I was as little as 3!  My first memorable love of drums and percussion came when I heard the Lion King soundtrack in 6th grade, actually.  I would dance around my room to it!  I was big into singing at that time, but I was re-introduced to drumming at Berklee College of Music when I took a West African drum class, and my love of the music and culture grew from there.
Click here to read more!