So, what is a drum circle, you ask?
---
A drum circle is an instant rhythm experience for all ages and abilities – no musical experience needed!
Frequently called in-the-moment music-making, drum circle participants sit in a circle and play drums and/or hand percussion instruments.  Participants engage together to create a group rhythm and cooperate in rhythm games.  The circle is moderated by a facilitator who guides the group in rhythms and rhythm-based activities.  Click here to book us for your organization or next event!
Check out the video below by the excellent facilitator Jim Donovan to see an explanation of a drum circle and some of the health benefits that can come from participating in one!
---
A corporate drum circle combines several innovative stress management and relaxation techniques with drumming. Corporate drum circles are more structured than community drum circles and are geared towards adults who often juggle many responsibilities and are pressed for time. Like with the community drum circle, corporate drum circles require no musical or drumming experience.
A community drum circle is open to everyone of all ages and is a family-friendly event. Another way to describe this event is to call it a rhythm party. These community drum circles are an opportunity to enjoy a group activity with friends and neighbors. It is a family-friendly event and open to all ages. No previous musical or drumming experience is necessary. It's all about FUN!
An educational drum circle refers to an interactive program designed for children and youth ages Pre-Kindergarten through 12th grade. Just Add Rhythm aligns their educational programs with the Florida Sunshine State Standards in education, to ensure that students are receiving top-quality programming that focuses on health and wellness, culture and geography, and developmentally appropriate social-emotional skills.
Although Just Add Rhythm does offer drum circles with therapeutic purposes, our programs do not offer or claim to offer physical or spiritual healing. We focus on the scientifically proven benefits of rhythm and drumming for physical and mental health and wellness.
Healing drum circles are typically focused on a spiritual experience where participants get together in a peaceful calming space such as a beach and drum with a specific intent, often for physical or spiritual healing.
Typical drum circle activities include:
Icebreaker activities
Rumbling on the drum
Call and response drumming
Leading the group drumming
Just Add Rhythm's drum circles do not focus on any culture-specific rhythms. Instead of learning and perfecting a particular rhythm or song, participants will be introduced to tools that will allow them to start playing the drum right away and to interact with others around the circle. The objective is to set up all participants for success and to empower them to use their imaginations when creating their own rhythms. We like to say that you can't make a mistake in the circle – but maybe a cool new rhythm!
Found sounds are ordinary items that you can find around you, that you can make rhythm with. For example, an unopened box of macaroni and cheese act as a shaker instrument.
Body percussion is any noise you can make with your body. For example, clapping, slapping your lap, stomping your feet are examples of body percussion.
Alisha is a professional drum circle facilitator with over 13 years' experience drumming, dancing, performing, and facilitating. She is a member of the Drum Circle Facilitators Guild, "an organization of and for professional, trained facilitators of rhythm based events." Alisha has a musical background that includes a bachelor's at Berklee College of Music, and a master's in Ethnomusicology at Tufts University – and she is able to get participants drumming no matter what their musical background (or lack thereof). Alisha has experience creating unique and memorable events for community, corporate, and education-based clients - and she has certifications and accreditation for several evidence-based rhythm protocols. She brings the drums and the FUN!
Just Add Rhythm comes to you – your place of business, your community event – even to your house for your party! We also host workshops for adults and families in Northeast Florida, so follow us on Facebook or sign up for our newsletter for updates on upcoming events!
Below is a diagram showing an ideal setup of concentric circles of chairs with four aisles.  This arrangement allows everyone to see/interact with each other and the facilitator easily.  The four aisles permits participants to move in and out of the circle as needed (e.g., for rhythm games, restroom breaks)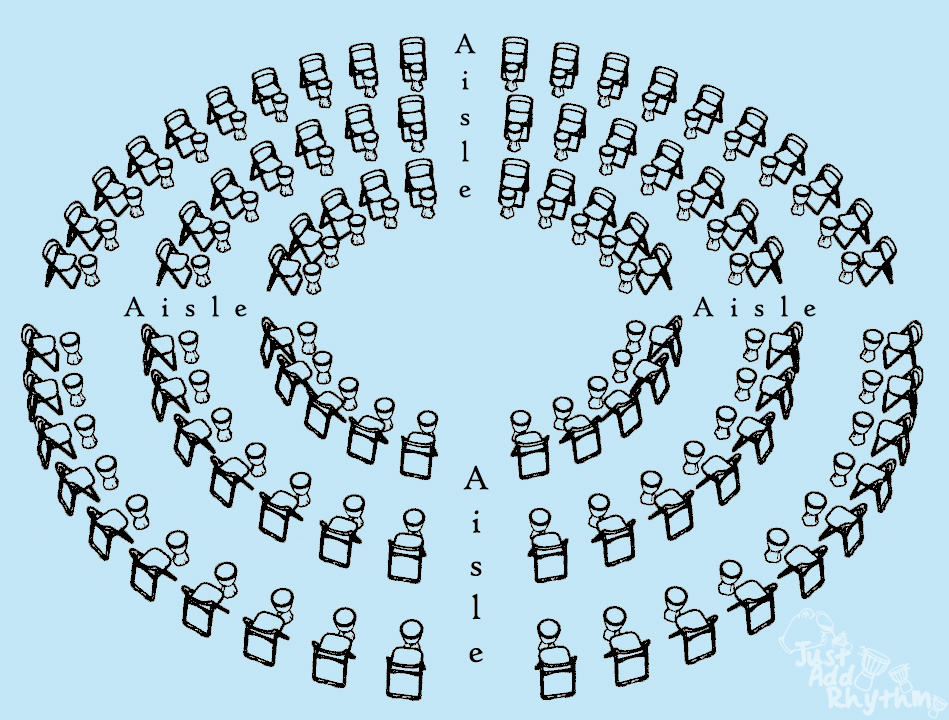 Nope! We bring all the drums and instruments to you; however, if you have your own that you'd like to play, that's great too!
We will work with you to create an incredible event that fits within your budget. Contact us today to tell us what you're looking for!
A drum circle facilitator works with a group of people to establish and accomplish goals that pertain to the group as a whole. For example, a corporation may hire a facilitator to offer a team building workshop for employees to learn to communicate more effectively with one another or to learn new tools to manage stress. The focus is on creating a group dynamic and establishing an inclusive environment where each participant is able to offer something unique to the group. According to musictherapy.org, "music therapy is the clinical and evidence-based use of music interventions to accomplish individualized goals within a therapeutic relationship by a credentialed professional who has completed an approved music therapy program." In other words, a music therapist has a particular secondary education degree that allows him or her to work in a clinical setting with clients, establishing each client's own individual goals.