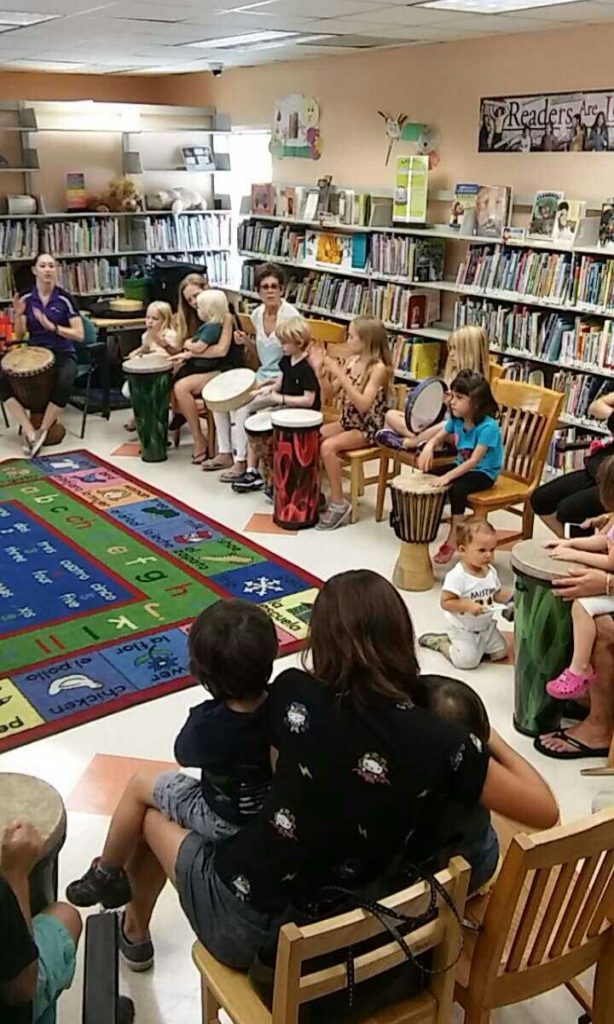 Summer is in full swing!  The dog days are upon us.  Beat the heat by beating on a drum this summer in the air-conditioned comfort of your local library!
Below is a list of branches in Northeast Florida, Southeast Georgia, and South Florida we'll be drumming at for the rest of the summer – hope we see you there!
As always, no experience is necessary to participate and have fun.  We bring all the drums!
Summer drumming in July
We'll be offering a special "rhythm and wellness" program for families at the Jax Makerspace on Wednesday, July 11th, 2-3 pm at the Jacksonville downtown library branch.  The event is part of JMS's current exhibit "Prescribed Expression: Relief in Healing Arts." We'll focus on the research that supports rhythm and wellness, including physical, mental, and social-emotional health.
For more info, visit the JMS Facebook event here!
Other branches in July include:
Tuesday 7/10, Highlands Regional branch (Jax), 3-4 pm
Thursday 7/12, Bunnell branch (Palm Coast), 10-11 am
Monday 7/16, Bradham Brooks branch (Jax), 11 am-noon
Wednesday 7/18, Coffee branch 11 am & Willacoochee branch 2:30 pm (S. Georgia)
Thursday 7/19, Westbrook branch (Jax), 3-4 pm
Tuesday 7/24, Millhopper branch (Gainesville), 2:30-3:30 pm
Saturday 7/21, South Regional branch (Pembroke Pines), 2-4 pm
Saturday 7/21, South Miami branch (Miami) 2-3 pm
Thursday 7/26, Opa-Locka branch (Miami) 11 am-12 noon
Extend the summer fun in August!
We'll be at one more branch in August!  Come to the Putnam County branch on Saturday, August 4th, 10-11 am.
Who can resist the allure of drumming and making noise in a library?  We sure can't!
Want us to drum at your camp?
Add rhythm to your summer fun by bringing us to your camp!  In addition to programs for campers, we also offer team-building fun for staff and counselors.  Reach out and learn more!