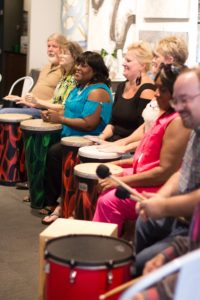 On September 22nd, 2017, we celebrated 5 years of rhythm with lots of food, fun, and drumming!  Hurricane Irma had blown through just two weeks earlier, so we used the opportunity to do some good.  Donations were collected for the Salvation Army of Northeast Florida and the Jacksonville Humane Society for the people and animals who were severely affected.
We also signed thank-you cards for first responders, including:
firefighters
EMT's
doctors, nurses, and medical staff
sheriff's offices and police departments
electric companies
waste removal and sanitation department
Everyone then participated in a drum circle.  We focused on reducing stress, connecting with each other, and expressing gratitude.
View our photo gallery below, and then check out some video highlights of the fun!
Thank you to our sponsors, including Denny Ross Consulting Corp., Balance + Transform:  A Different Kind of Wellness Center, Juvons Maison Gaja, and Kroma Printing & Design!  We couldn't have done it without you!
Thanks also to HOBNOB, who did a fabulous job hosting and catering, and to Custom Ink for helping us create some amazing t-shirts for our attendees.
Do you want in?
If this sounds like something you'd love to try, contact us for more info, or sign up for our newsletter for updates on our upcoming events!