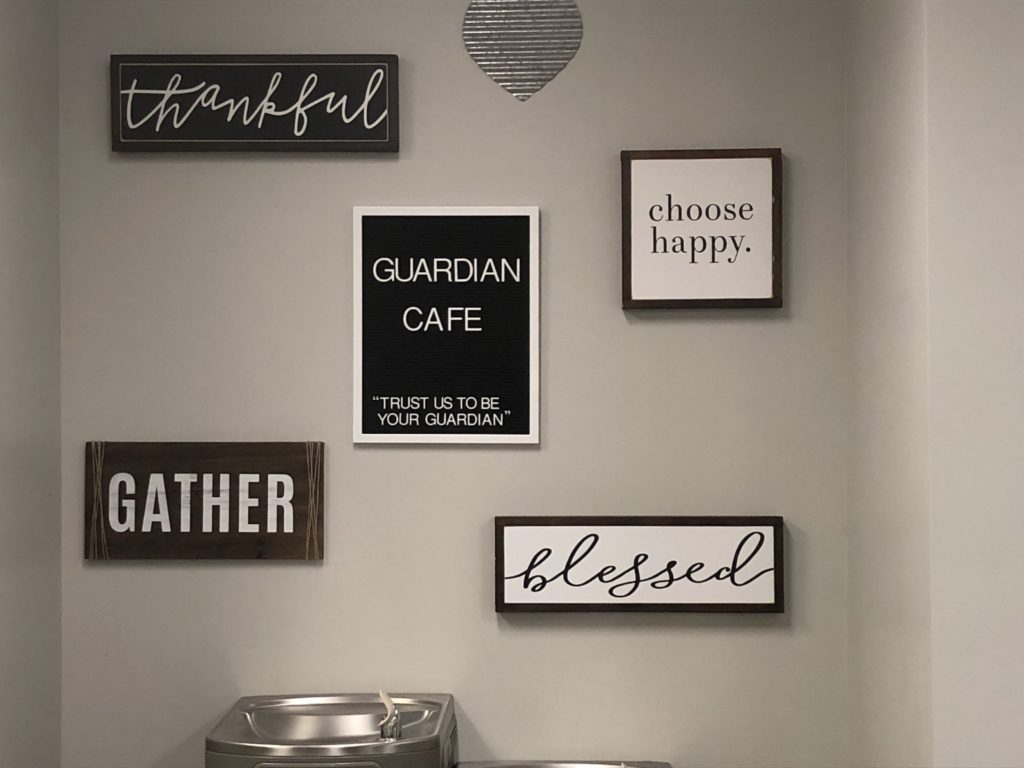 Building effective teams in the workplace is an ongoing process.  You can't simply offer a training, hand out an award and call it a day.  You might want to use a multi-faceted approach when it comes to ensuring your team is at peak performance.
Recently, we offered a stress-reduction and teambuilding workshop for the employees of Guardian Pharmacy in Jacksonville.  Prior to the workshop, I visited their office for a tour and an overview of their work environment.  I sat down with Ismary Castro, a Client Service and Relations Manager, to learn more about their operations and employee needs.  From that visit and our subsequent drumming workshop, I learned a lot about what they're already doing well.
Making your employees as much of a priority as your clients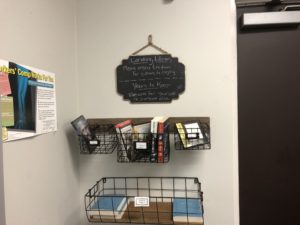 The first thing I noticed before even entering the building was the shiny new parking sign denoting a spot for the Employee of the Month.  Ismary said she thought it was an important perk to give the chosen employees so they're visibly recognized for their hard work.
Throughout the rest of the building, it was clear that she'd made an effort to offer multiple ways to encourage wellness and appreciation:
A book nook
A candy jar
Stylish signs with encouraging messages decorating the walls
A pile of blank notes that managers can write to team members thanking them for something awesome they did
Keeping the client top of mind
One of the other first things I noticed when I arrived was a wall chock-full of photos of residents at the senior care facilities they serve.  Ismary beamed when I remarked how encouraging it was to see that out in the open.
If you lose sight of who you're working for, how will you know where to focus your energy?
"The No Complaining Rule"
When we scheduled the workshop several months ago, Ismary told me their employees were reading a book called "The No Complaining Rule."  I should read it too, she said.  That would help me plan a session that was more in tune with the group's needs.  I read it and wrote down several nuggets of wisdom to incorporate into our session.
The office was filled with posters reminding employees of the No Complaining Rule.  The idea is to encourage people to be "problem solvers, not problem sharers."  The book explains that the office can choose a system for receiving and resolving complaints of all sizes.  It sounds simple, but once implemented, can have a huge impact on the company culture.  By nipping negativity and mindless complaining in the bud, the whole office becomes one that seeks solutions rather than more problems.
Drumming out stress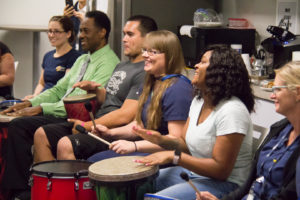 Finally, we got to drum with the employees to help them reduce and manage their stress.  Ismary emphasized that the company's departments each have their own unique demands.  We'd give them a chance to let off some steam and have fun.  They would connect with people in other departments, and learn some techniques for using rhythm on their own.
After the session, one team member mentioned that this was his first day, so the drumming set the tone for his experience with his new employer.  He was all smiles before, during and after!
There's a lot that goes into building effective teams in a high-stress environment.  Contact us for a free consultation and learn how rhythm can help your team!