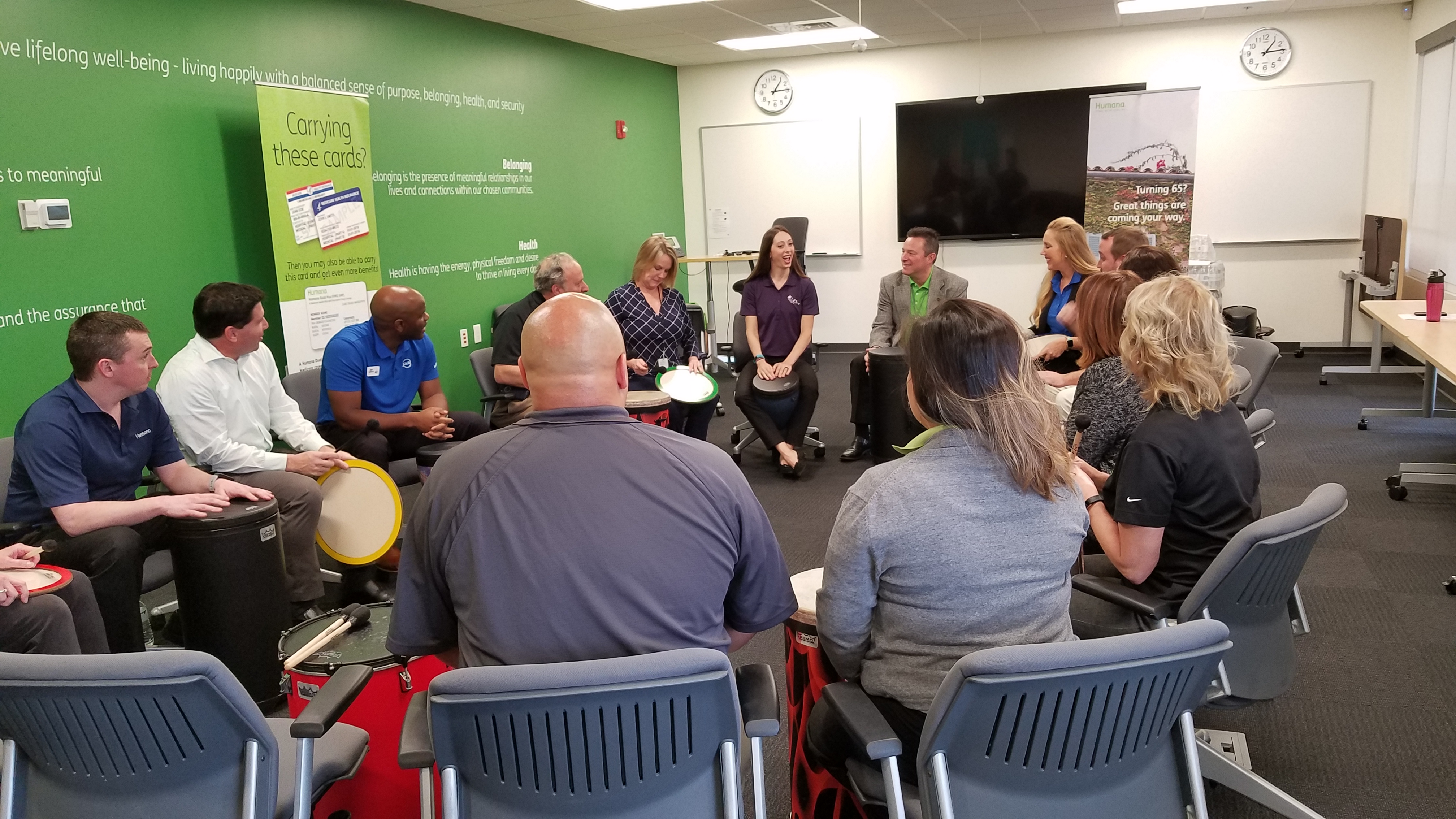 Team-building with video cameras in your face is no easy feat, but the employees of Humana did it with grace – and a little bit of playfulness.  After all, they're setting a wellness example to all their clients as a premier healthcare company.
So why the video cameras?  Local Jacksonville TV show River City Live sent two co-hosts out to our session with Humana employees to learn all about drumming for wellness.  Hosts Rance Adams and Mark Payton joined in the fun and learned about some of the research behind drumming in a corporate environment.
Team-building – what Humana learned
As you might think, Humana employees were skeptical about the idea of drumming at their regular wellness Wednesday meeting, but quickly got into the swing of it.  How did we turn their attitudes around?
Keep it simple – we fail-proof our sessions by meeting people where they're at and showing them they don't have to be professional musicians to participate.
Give them plenty of chances to laugh – we build fun and playfulness into the sessions without getting too silly (no one wants to be embarrassed in front of their co-workers and supervisors).  The activities we integrate involve friendly interaction and imagination.
Divide and conquer – that's right, sometimes during team-building events we split up the groups so they have a chance to interact in smaller groups.  This eases some of the performance anxiety that sometimes crops up, and gives people a chance to make one-on-one connections that extend beyond the drum circle.
Takeaways from River City Live
How did the co-hosts respond to the session?  Also, what stuck out to them that they might want to emphasize in the TV segment?
Research – during an interview, we talked about the research behind drumming in corporate settings.  A 2005 study found that drumming can reverse stress at a DNA level. Drumming isn't just for the hippies and fire dancers; it's found a place in corporate culture as a way to enhance wellness.
Culture – we also discussed my master's research in West Africa in terms of the cultural differences – the way Africans and Americans participate in musical experiences.  This 'hands-on' nature of lots of kinds of West African music allows people to support each other on a deeper level.
When we set aside our anxieties and concerns and momentarily allow ourselves to be immersed in a rhythmic experience, we're better equipped to deal with our challenges.  Drumming invites us to attend to our needs while also encouraging us to listen to the needs of those around us.  In a corporate environment, that translates to better teamwork, higher emotional intelligence, and improved leadership and communication skills.
Who can pass that up?
To watch the full segment on River City Live, click here.