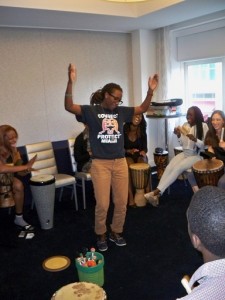 Icebreakers.  Does the word make you cringe?  Does it conjure up any flashbacks of weird requests from conference leaders or workshop trainers that made participants feel awkward or embarrassed?  Maybe they were actually fun but had nothing to do with the topic of the actual training.  Here's something you might not know:  rhythm can make a great icebreaker.  Read on and I'll tell you how it works and why it's successful – and why so many companies are choosing to include drumming in their trainings and conferences.
Why drums?
As a drum circle facilitator, I've honed my skills in order to offer programs that will begin by breaking the ice and allow people to feel comfortable together.  Interactive rhythm itself is a great icebreaker, because it puts everyone on an equal footing – no competition! (read this post about what happens when competition takes over team building)  With a drum in your hands, you automatically have permission to fidget, tap, and make noise.  If the facilitator does a good job, people will feel less anxious and will see themselves as part of a supportive group.  But, if the facilitator could use some improvement, participants will end up feeling overwhelmed and not rhythmically skilled enough to "keep up."  Let's look at a few ways in which drumming can help break the ice within a group of professionals whose idea of cutting loose is probably Casual Friday.
How it works
Here are some ways a skilled facilitator can break the ice (at a training, conference, or other company gathering) successfully:
Allow participants to find a drum that appeals to them and explore sounds on their own, and wait for a common rhythm to emerge from the group.  This encourages participants to establish their own boundaries before the facilitator even needs to speak a word.
Offer a short, easy to replicate rhythm that can be spoken and played (called by skilled facilitator Jim Donovan a 'rhythm seed,' such as saying and playing "play that drum" over and over).  Short, familiar patterns can help ease performance anxiety by letting participants know that no musical experience is necessary to enjoy and benefit from drumming.
Invite the group to "rumble" on their instruments, effectively creating a drum roll that can increase the energy, excitement and camaraderie among the group. Even with the most rhythm-challenged group, we can still create cohesiveness through rumbling.  Rumbling requires no ability to keep a steady beat – and it always brings out lots of smiles!
When the pressure to perform is OFF, participants can start to make connections with one another, which will then carry over into the workplace, conference, or training.
Why companies are getting on board
A number of Fortune 500 companies are choosing drumming for their team building programs and conference icebreakers, as well as company wellness programs.  Corporations are becoming aware of the fact that if they invest in their individual employees' physical and mental well-being, they will experience less employee turnover and lose less money in the constant hiring and training of new employees.  Plus, those employees will be better equipped to do their jobs.  Drumming has been demonstrated to improve communication, encourage teamwork and group support, offer outlets for stress, and provide tools for maintaining mental health.
A great icebreaker is one that a) makes people smile and laugh, and b) encourages connection and creativity among participants.  Interactive drumming ticks off all those boxes, and plus – who doesn't want to bang on a drum?
Contact Just Add Rhythm for drum circle based team building in Miami, Fort Lauderdale, and Jacksonville.