WOW – what an impact-filled year!  Thanks to the more than 60 organizations who booked Just Add Rhythm in 2017, we were able to empower more than 4,000 people of all ages through rhythm! 
Drumming with recovery populations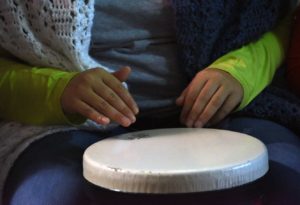 This year we had the opportunity to provide therapeutic drumming programs to a recovery center in South Florida at their Hollywood and Fort Lauderdale sites.  Clients participated in weekly drumming sessions that focused on stress reduction, building and strengthening healthy relationships, and effective communication.  Some of their feedback included:
It "helped me get out of my comfort zone"
It "brings me happiness and peace"
It's "great for my recovery"
Drumming in after-school programs
From South to North Florida, we drummed it up in the after-school programs.  Communities in Schools of Jacksonville is currently enjoying monthly and twice-monthly drumming programs at four of their elementary school sites.  One site coordinator remarked, "it's another way [for students] to release energy and it teaches them to work together as a group."  So, rhythm has a significant impact on teamwork!
We also had the pleasure of providing weekly programs to the Boys & Girls Clubs of Northeast Florida's Butler Middle School after-school program.  Students learned about teamwork, collaboration, and communication with the evidence-based DRUMBEAT curriculum.
Meanwhile in South Florida, we drummed with the Boys & Girls Clubs of Broward, the Broward Children's Center, Smith Community Mental Health Center, After-School Programs of Broward, and more.
Both students and staff enjoy the hands-on aspect of playing the drums and creating their own rhythms!
Drumming for community impact
Many organizations strengthened their communities by adding rhythm to their events, including:
I'm confident we can help your company or organization strengthen its connections to one another through rhythm.  Please reach out to us and find out how!