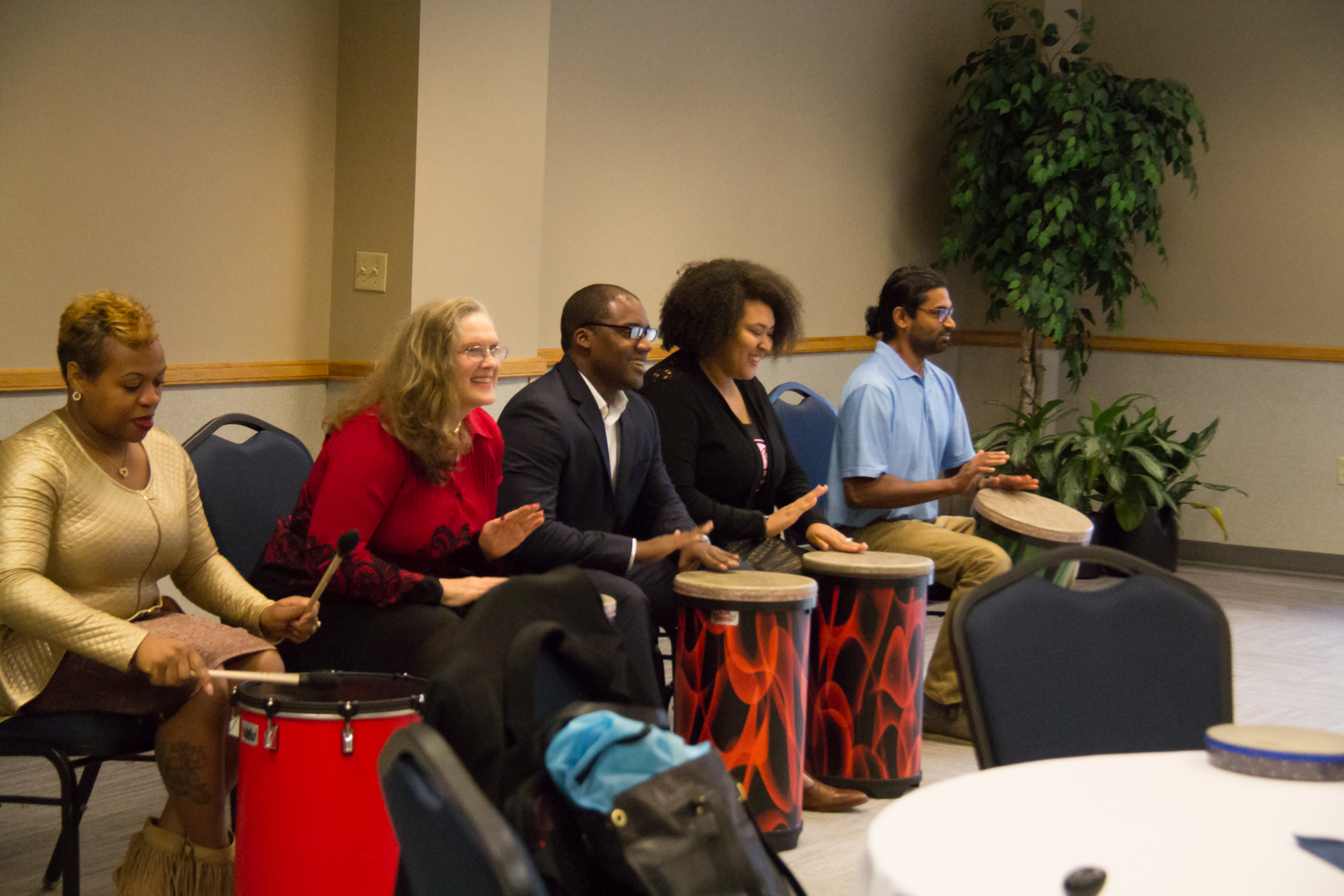 You have to give a presentation in a half hour that highlights your business, your value proposition, and everything you've been working toward.  Judges from local companies will be evaluating your pitch and deciding if they'd like to do business with you.  So how are you feeling?  Need a little stress reduction?
If you answered stressed or anxious, you'd be in good company.  On November 13th, about 60 small businesses and entrepreneurs in the Jax Chamber's Jax Bridges program had the opportunity to pitch – and many of them were a ball of nerves.
So what did we do?  Well, a drum circle, of course!  Just Add Rhythm brought the drums to shake out the nerves and get people feeling relaxed and confident in their ability.  Want some stress reduction before your next big event?  Here are some benefits the participants experienced:
Stress reduction
Well, duh – that was the main goal!  But why was it effective?  Because it got the participants out of their heads and into their bodies.  When you're playing a drum, you need to be fully present and in the moment – no looking at your phone or glancing at your note cards one more time.  You focus on the task at hand and keep the beat with those around you.  This usually helps distract participants from their nerves.
Empathy
Speaking of distraction, when we start looking around us and matching our beats with that of others, we start to listen more deeply to the sound being created.  Then we start to figure out what others need from us – what we have to contribute to the sound of the whole group.  This helps a lot with the stress reduction as a result.
Physical activity
Lastly, we knew we'd be sitting down listening to everyone's pitches for a good two or more hours.  Wouldn't it be nice to get in some movement before then?  To warm up our bodies, feel comfortable in our skin, and practice our confident postures?
By the time the pitches began, everyone was more calm, cool and collected.  Half of us went in one room to pitch to half the judges, the other half in the other room.  In my room, right before we began, someone asked if I could play my drum again to help calm the nerves.  We laughed, we cheered for each other, and we all went up and crushed it.
Is your group or team doing a presentation and would like some help quelling the nerves before the big event?  Contact us to talk about a stress reduction icebreaker!